With giant sequoias, granite cliffs, and waterfalls, it's no surprise that Yosemite National Park, and the surrounding areas, have found a spot on so many Americans' bucket lists. This area makes up some of the most stunning landscapes in the country, and millions of people head there every year to camp with their families and make memories that last a lifetime. There's an endless list of activities to do in this area, but one of the best ways to experience the iconic scenery is on a hike. However, not all hikes are created equal, and some certainly aren't meant for families. Here are seven kid-friendly hikes in Yosemite National Park and the surrounding areas:
1. Glacier Point Trail
Distance: 1-mile round-trip
Duration: 20 minutes
Difficulty: Easy
If you're looking for some of the best views in Yosemite without committing to a long walk, start with Glacier Point Trail. Here, there is a trailhead that leads to some of the park's other popular paths (Bridalveil Creek, Yosemite Valley), and provides an excellent vantage point to see the Half Dome and Three Falls. There are bathrooms and a cafeteria near the trailhead where you can pick up provisions to enjoy – and keep the kids happy – as you admire the view. It's a great spot to sit and watch the sunset!
2. Lower Mariposa Grove
Distance: 2.2 miles round-trip
Duration: 1-4 hours
Difficulty: Low to Moderate
This route has one of the largest collections of Yosemite's giant sequoia trees. These remarkable trees are the largest species of single trees in the world, growing to an average height of 164-279 feet and 20-26 feet in diameter. Stroll this two-mile round-trip path with your kids to see the trees for yourself and take pictures with these natural giants.
3. Tuolumne Meadows
Distance: 1.5 miles round-trip
Duration: 1 hour
Difficulty: Easy
Hike through Tuolumne Meadow for gorgeous views of the surrounding granite mountains in Yosemite. Enjoy the sound of the rushing river that winds through the valley, and keep your eyes open for deer as you walk. It's an easy route with a low grade, perfect for a simple family stroll at sunset. With the river and lakes in the valley, you can catch amazing reflections of colorful clouds as the sun goes down for the day.
4. Wawona Meadow
Distance: 3.5-mile loop
Duration: 2 hours
Difficulty: Easy
This is a great choice for kids because it's one of the few trails in Yosemite where pets and bikes are allowed. Load up your family's bikes and spend an afternoon on this trail, which goes through a beautiful meadow known for wildflower blooms. It's a flat and paved path, perfect for a bike ride, walk, or run. According to the National Park Service, Yosemite's wildflowers are in bloom most of the year, which means you can expect to see some spectacular scenery here no matter when you go.
5. Tenaya Lake
Distance: 2.5-mile loop
Duration: 1-2 hours
Difficulty: Easy
Camping trip meets beach vacation on the Tenaya Lake trail in Yosemite. Not only does this path boast amazing views of the granite domes and mountains on three sides, but it also has a sand beach on the east side of the lake. Your kids will think it's a perfect pitstop for a picnic. Or, you might decide to take a dip in the pure mountain water to cool down from your summertime hike around the lake. While the scenery is stunning, this hike is pretty tame, making it a safe choice for kids of all ages and abilities. Just don't forget to bring the sunscreen!
6. General Grant Tree Trail
Distance: 0.8 miles
Duration: 30 minutes
Difficulty: Easy
The General Grant Tree Trail in Kings Canyon National Park offers an up-close-and-personal view of the world's largest tree species. A lot of people say pictures don't do them justice, and that you have to see them in person to truly appreciate how remarkable they are. Head to the park and hike the trail for an opportunity to do just that. Take the General Grant Tree Trail to see one of the world's largest living trees, General Grant, which is also known as America's Christmas Tree. While you're there, stop by the historic Gamlin Cabin for another point of interest.
7. Moro Rock
Distance: 0.4+ miles
Duration: 30 minutes
Difficulty: Moderate
This short but steep hike up 400 steps to the top of Moro Rock is well worth the effort for 360-degree views of the Sierras. You can lengthen this hike by walking to and from the park's museum (this adds about three miles), or catch a shuttle to save time. Either way, it's a challenging your activity your family will enjoy – as long as no one is too afraid of heights. If they are, you can head back down to the base and enjoy the rest of the park.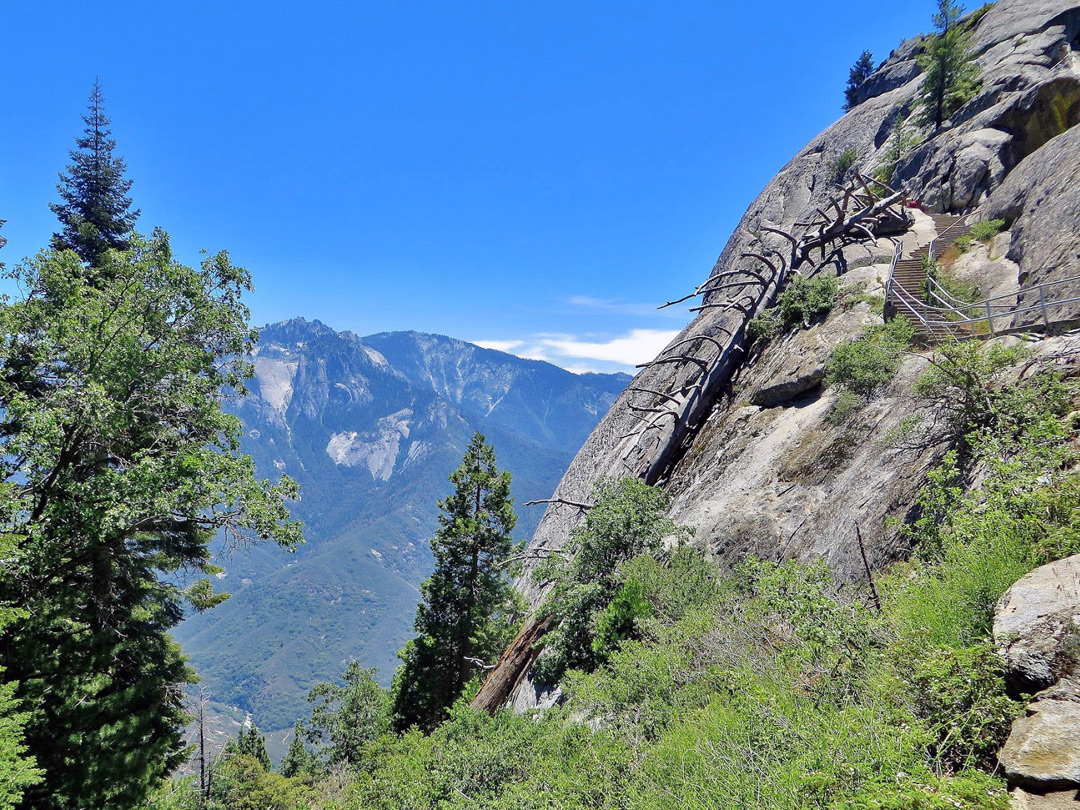 A camping trip to Yosemite and California's Sierra Nevada range is something your family will never forget. The beautiful wilderness, gravity-defying sequoias, and breath-taking valley views are things you will be talking about for years.
Last Updated on June 14, 2019