Every firearm enthusiasts know about Remington as well as the top-notch products that the brand provides to the market. In the category of bolt action rifle, Model 700 and Model 783 are some of the most well-known guns of Remington. Both offer high accuracy, reliable action and ease of maintenance so it's no surprise that these weapons earn praises from shooters around the globe. That being said, a tricky question comes up from time to time: Remington 783 vs 700, which one offers the best performance?
So you are unable to make up your mind on what to invest on here? Then the information down below might bring you a solution.  
Brief Rundown Of The Rifles
Before we actually get to the subject of Remington model 783 vs 700, it's a good idea to glance through their background a bit.    
Generally speaking, you don't have to be a Remington loyalist in order to know about the reputation of Model 700. Thanks to its excellent performance on the field, Remington Model 700 sees extensive services in multiple militaries and law enforcement forces. But as the market slowly edges toward "accurate rifles at reasonable prices", Remington decides to follow the trend without delay and Model 783 is the result. Remington Model 783 possesses everything hunters/target shooters/plinkers need: free floating barrel, pillar-embedded stock,…
All things considered, it's safe to say that Model 783 is not a replacement for Model 700 but merely an alternative option for budget-minded shooters.
Notable Differences Between Remington 783 And 700
Needless to say, unless you check out the rifles from Remington thoroughly, it's pretty much impossible to reach a sound conclusion regarding Remington 783 vs 700. Overall, different people tend to have different criteria but in most of the cases, there are a couple of aspects that you need to assess.
Accuracy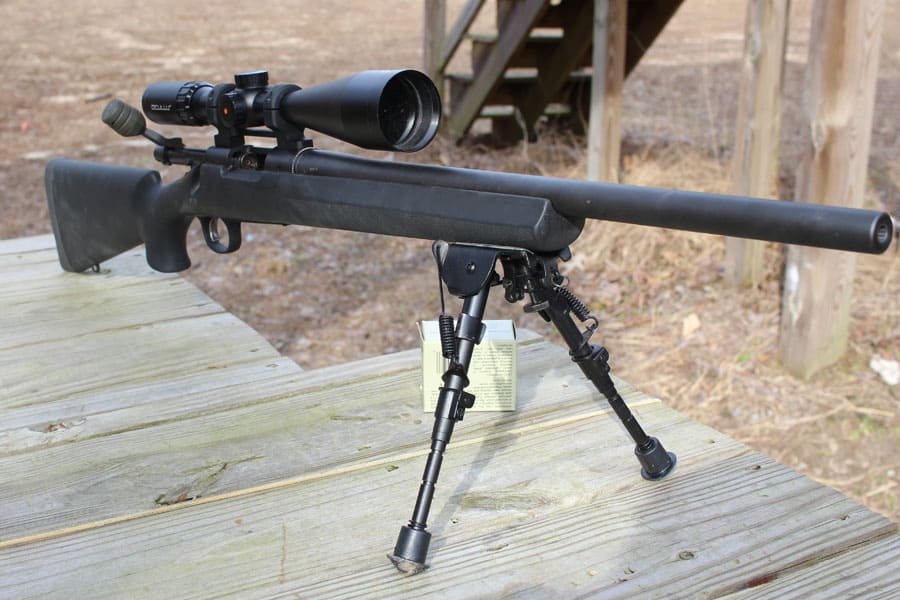 Despite the fact that Model 783 is noticeably cheaper than its famous cousin, Model 700, but the field accuracy remains first-rate. Depending on shooting skills, rounds and accessories, Remington Model 700 shall deliver grouping around one inch. As a result, the Remington rifle shoots considerably more accurate than its price tag suggests. So assuming that you take good care of it, Model 700 shall hit a wide range of target at various distances
One thing that makes Model 700 famous on the market of bolt action rifle is its top of the line precision. For most of the time, the Remington rifle is precise straight out of the box. In the hands of competent shooters, it's normal to see groupings that stay below one inch with Remington Model 700. Of course, the choice of ammunition, weather factors and so on would influence your accuracy. Nonetheless, in standard shooting scenarios, you could count on Model 700 to nail your targets consistently.
Endurance
It's undeniable that Model 783 is a product made to be cheap but it holds together just as well as other rifles on the market. A couple of people even claim that the rifle from Remington may take a heavy beating and still remain operational. The high nylon plastic let the rifle become more rigid than other budget model but it falls behind laminated wood.
The robust nature of Model 700 ensures that it's fully capable of withstanding a lot of abuses without falling apart. Regardless of whatever challenges you put it though, the Remington rifle could function as designed. That being said, if possible, you should refrain from taking things to the extremes so as to protect your investment.  Besides that, Remington Model 700 is a fine choice for the majority of conditions and environments.
Features
Note: While it's a mistake to discuss Remington 783 vs 700 without covering the onboard features, there are numerous variants exist nowadays with ever-changing configuration. In order to keep it simple, this article only introduces popular features of the rifles.
Being a mass produced rifle for budget-minded shooters, Model 783 incorporates no-nonsense features that both novices and veteran appreciate. Packing an adjustable trigger, the rifle from Remington allows you to adjust the pull weight until it matches your taste. Additionally, to reduce the hefty impact of shot recoil, the rifle receives a comfortable gel-filled pad at the factory. Last but not least, the safety lever proves pleasant to work with in multiple positions.
In contrast with Model 700, Model 783 is designed to use a detachable magazine from the beginning. That means once you rifle runs dry, you could reload it with more rounds in just a matter of seconds. The magazine of Remington Model 783 features a steel frame so it's able to take a few hits without shattering. Due to the small ejection port, the receiver of the Remington rifle feels fairly rigid.
About accessories, Model 783 is quite forgiving so it shall accept most of the parts manufactured for conventional bolt action rifles. On top of the receiver, there are four mounting holes for scope rails which let you quickly set up optics. Similar to some rifles deals, you could Remington Model 783 as a standalone rifle but you could opt to get Remington riddles that already have accessories.
Since Model 700 is highly customizable, it could readily accept all kind of rifle parts at a moment's notice without requiring gunsmith work at all. For people that want to build their own rifle, Remington Model 700 is the top choice. The factory features of the rifle from Remington include steel sling stud, safety lock, two lug bolt and many others.  
Early Model 700 utilizes internal magazines which require you to reload individual round from the top after you expend all of the ammunition in your rifle. A couple of variants have a floor plate for quick unload but that is essentially it, you have to spend quite some time to reload. Fortunately, some later variants employ more convenient detachable magazines that facilitate reload in critical moments.
For accessories, you should be able to outfit your Remington Model 700 with optic, bipods, slings and more but be cautious. Due to their configuration, specific variants of Model 700 might fail to accept certain rifle accessories. For example, Remington rifles that have internal magazines only permit top-reload so they cannot accept low mounted rifle scopes. The reason is plain: Such scopes hamper the reload process.
Conclusion: It's Quite Close
Since Model 783 is made to compete with Model 700, it's very hard to tell which one is the undisputed victor in Remington 783 vs 700 discussions/debates. So it finally comes down what you need to have and the way you use the rifle on the field.
If you desire quality and have money to afford just that then Model 700 is the winner of Remington 700 vs 783 competition.

If you are shopping on a rather tight budget and hope to get some quality, Model 783 shall triumph in

Rem 783 vs 700

contest of cost-effectiveness.
To remind you about the distinct characteristics of the rifles, here are Remington 700 as well as Remington 783 pros and cons:
Remington 700
Remington 783
Pros
Excellent lock time
Light and mobile
Respectable accuracy
Recoil dampen pad
Strong bolt and light trigger
Budget friendly price
Cons
The acquisition cost is pretty high
Head up quickly
Takes times to replace the firing pin
Non-use grip panels
Last Updated on June 5, 2019